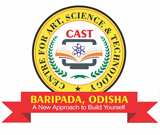 Wel Come To Our Site . . .
Centre for Art, Science & Technology (CAST), Non-Political, Non-Government Organization and Developmental Organization and its aim is: To build public awareness ,Documentation, Improvement the Scientific Temper, conduct basic Research & Development on Environment, Promotion of Art, Computer literacy(IT), Education, Health & Rural development with the concept of Human right. It will adopt integral approach to help the Poor, Backwards, ST, SC, Women, Tribal People, Students, Illiterate and Disabled persons for their common socio economic development.
Legal Status of CAST:
CAST is Registered under the Trust Act 1899, (Orissaa Amendment act 1 of 2008) Schedule 1-A No. With valid Registration Number – 41261303968
Our Net Working with other NGO/TRUST/INSTITUTION/COMPANY like:
C-NET COMPUTER EDUCATION, MAYURBHANJ BIOLOGICAL RESEARCH (MBR), MBS ETC.